Star-planete.net Mister Winter 2012: Bill Kaulitz
Après 10 semaines de compétition, Bill Kaulitz remporte le titre de Mister Winter 2012 ! Il sera plébiscitée tout au long de l'année 2012 sur Star-Planète sur cette page dédiée. Vous pourrez ainsi suivre son actualité, son parcours professionnel et ses projets avec le groupe Tokio Hotel.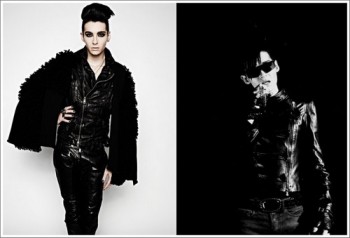 Le nouvel album de Tokio Hotel ne sortira pas avant la rentrée de septembre 2012. Aucune date exacte n'est actuellement communiquée. Cependant, Bill Kaulitz a enregistré une chanson en collaboration avec le groupe Far East Movement, dont l'album sortira le 8 mai. Il est probable qu'à cette occasion, Bill Kaulitz revienne en Europe pour la promo de cet album.
ENGLISH
After 10 weeks of competition, Bill Kaulitz wins the title of Mister Winter 2012! And it will be celebrated throughout the year 2012 at this site dedicated to Star-planet.You can follow the news, his career and his plans with the band Tokio Hotel.
The new album of Tokio Hotel, it will be released before the start of September 2012. No exact date reported. However, Bill Kaulitz has recorded a song in collaboration with the group Far East Movement, whose album will be released on May 8 is likely that this time, Bill Kaulitz return to Europe to promote this album.
ESPAÑOL
Después de 10 semanas de competencia, Bill Kaulitz gana el título de Mister Winter 2012 ! Y será aclamado en todo el año 2012 en esta página dedicada de Star-planet. Puede seguir las noticias, su carrera y sus planes con la banda Tokio Hotel.
El nuevo álbum de Tokio Hotel , no se dará a conocer antes del comienzo de septiembre del 2012 . No hay fecha exacta comunicada. Sin embargo, Bill Kaulitz ha grabado una canción en colaboración con el grupo de Far East Movement, cuyo álbum será lanzado el 8 de mayo Es probable que en esta ocasión, Bill Kaulitz regrese a Europa para promocionar este álbum.
INFO--->
http://www.star-planete.net/mister-winter-bill-kaulitz/